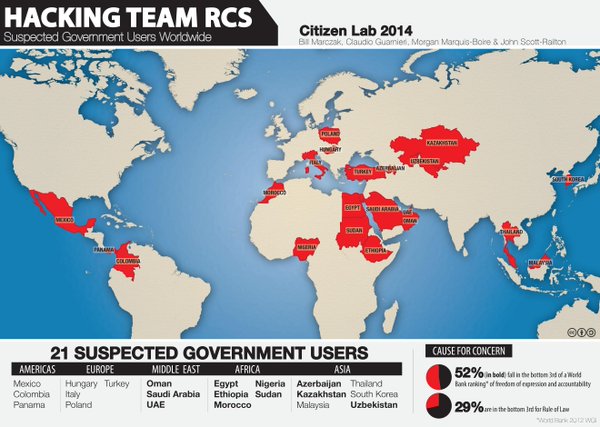 The 21 suspected government users of RCS by Hacking Team
Hacking Team, also known as HT S.r.l., is a Milan-based company that describes itself as the "first to propose an offensive solution for cyber investigations".

Their flagship Remote Control System (RCS)1 product, billed "the hacking suite for governmental interception," is a suite of remote monitoring implants (i.e., spyware) sold exclusively to government agencies worldwide.

We suspect that twenty-one governments are using Hacking Team's RCS spyware. Except as otherwise noted, we identified these countries based on tracing endpoints of Hacking Team proxy chains: Azerbaijan, Colombia, Egypt, Ethiopia, Hungary, Italy, Kazakhstan, Korea, Malaysia, Mexico, Morocco, Nigeria, Oman, Panama, Poland, Saudi Arabia, Sudan, Thailand, Turkey, United Arab Emirates, and Uzbekistan.
Full report: Mapping Hacking Team's "Untraceable" Spyware by Bill Marczak, Claudio Guarnieri, Morgan Marquis-Boire, and John Scott-Railton, February 17, 2014
---
Remote Control System (RCS) is sophisticated computer spyware marketed and sold exclusively to governments by Milan-based Hacking Team ↩︎